by CompareLotto
/
November 16, 2016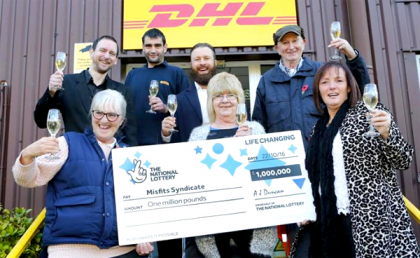 A group of thirteen players known as the Misfits Syndicates won the Euro lotto of a sensational £1 million prize. With good reason to celebrate their win, each of them will take home £77K, thousands richer than they expected. 
The leader of the Misfits Syndicate, Mandy Richards formed the group six years ago. Since then she has played thirteen lotto lines, every Saturday. Over the years, the syndicates won a few small prizes but never as big a prize as £1 million. 
Mandy said, "I collect the money on payday and buy the syndicate tickets every month, and then store them away safely in a tin at home. I always check our numbers after the draw but I'll be honest, don't always look at the Millionaire Raffle code, I usually leave this to be checked on the machine when I go in to buy the next month's tickets. And that's what happened with this win, it's just amazing to think that little slip of paper, worth one million, was just sitting in my tin at home!"
The Surprising Revelation
The Misfits Syndicate found out about their lottery win through Mandy Richards' eldest daughter, Louise, who checked their numbers at the local store.
Mrs. Richards explains "My daughter, Louise, came in waving a slip of paper saying we had a win, it was more than £500 and I needed to ring Camelot immediately. Before I rang I checked all the numbers online but couldn't see any matches, then I realised maybe it was the Millionaire Raffle. When one of the codes matched I just couldn't believe what I was seeing."
At the time, the lottery ticket was verified, Mandy did not have time to share the good news with the other syndicate members. In fact, she was in a hurry to attend the local fireworks display with her siblings.
Knowing the exciting news, Mrs Richards went to work on the Monday to reveal the amazing lotto results to her colleagues with the copy of the ticket together with twelve cards showing the winnings,
Another syndicate member Sue Ivell said "Once those cards were opened there were whoops of joy, screaming, a few tears and utter amazement at our £1.000.000 win. I just couldn't believe it, in fact, I still can't."
The Bright Future Ahead
Winning the lotto is a dream come true, on top of this a windfall close to the Christmas season cannot be a better time to win such a prize. All the syndicate members intend to fulfill their desire to buy new houses and flashy cars as well as settling their debts. As for Mandy Richards, the syndicate leader plans to build a conservatory at the back of her house.
Like the Misfits Syndicates, you too can participate in the upcoming US Powerball is up for grabs in this Wednesday's draw of an overwhelming $293 million jackpot prize. So what are you waiting for? Buy a lottery ticket for your chance to fulfill your dreams and turn your life around.