by Content Editor, Christina
/
January 17, 2017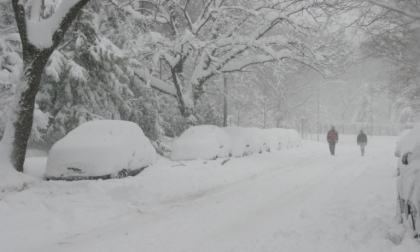 A snowstorm that hit Oregon turned out to be a good sign for the Mega Million lottery winner, Joemel Panisa. If it were not for the winter cleaning, he would have missed the deadline of claiming the mega million. This lottery winner story is a reminder that you should clean out your office more than once a year.
Every now and then it is good to check what you have on your desk for you will never know what you may come across like the lottery player, Panisa who felt motivated to clean his home office while stuck inside during a snowy day. He was astonished to come across a Mega Millions lotto ticket which was purchased in January 2016.
Panisa told lottery officials that he put his lotto receipt in an envelope, placing it in his office and forgot about it until the next year. He remembered hearing a recent lottery report about an unclaimed lotto ticket that will soon expire.
The punter checked his lottery numbers online with the drawn digits and surprisingly Joemel found out his precious lottery ticket was worth a jaw-dropping $1 million.
The good thing about the Mega Millions is that the lottery jackpot prizes can be claimed within a year that the lotto receipt was bought. The Oregon man claimed his lottery ticket in time just before the deadline that was only eight days away. Joemel matched five main numbers but missed the mega ball and to increase his chances he played the quick pick option. 
The State's Lottery office revealed that Panisa is the fourth Mega millionaire since the lottery game was introduced in the state of Oregon in 2010.
According to Oregon Lottery officials, the convenience shop, US Market 104 will receive $10K for the store for selling the winning ticket.
The discovery of last year's winning lottery ticket was a surprise for Octavio Tamayo, the manager of the mini market. He said "My staff is going to be wondering who bought the ticket now, hopefully they come back in and let us know."
You too can take the opportunity to play the online lotteries like the Mega Millions which is held weekly on Tuesdays and Fridays. The last lottery results drawn were 10, 44, 58, 74, 75 and the bonus ball was 11. Since there were no lucky winners who guessed all the numbers, the jackpot prize for tonight's draw will rise to an overwhelming $150 million. Have you bought your online lotto tickets yet?
Another lotto that will take place tonight is the Superenalotto. Last Saturday's numbers were 12, 17, 24, 45, 67, 84 and the jolly was 32. There were no winners that guessed all the numerals so the top prize offered tonight will be a whopping $75.9 million. What would you do if you won the Italian Lottery?