by CompareLotto
/
August 23, 2016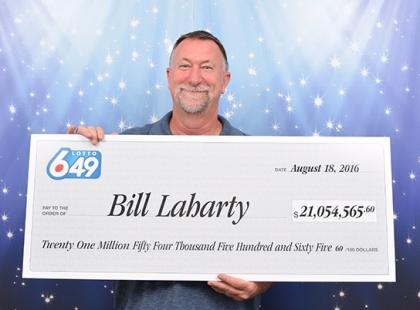 Traveling the world after winning $21 million
Bill Laharty, a single 52 year-old from Nanaimo, Canada, won a $21 million jackpot in the national 649 Lotto.
Bill had worked hard over the last 20 years - digging holes and constructing anchors for electricity poles. He bought lotto tickets on and off throughout his life, eventually ditching the bookmakers and buying them online for convenience.
"I expect this will really change my life," said Laharty. "I'll travel the world and help out my family and friends."
He describes his new-found fortune as 'awesome' and on that note he decided to retire. He said "Ever since I discovered I won, it's like I've been in a dream. I saw this big number and had to count all the zeros. I couldn't believe it and no one else does either."
He has already started living the millionaire dream. After his claim of the overwhelming prize he bought two BMW cars, one for him and the other for his friend. Laharty also intends to travel to exotic places like Bora Bora, enjoying the high life of a multi-millionaire.
The Pending Decision on the Alabama Lottery Bill
Last week the Senate approved the creation of a lottery in Alabama and a commission to inspect it. In fact, Alabama along with Alaska, Hawaii, Mississippi, Nevada and Utah are without a state lottery.
The Alabama Economic Development and Tourism House committee is expected Tuesday to discuss the lottery bill. If the House approves the lottery by Wednesday 24th, the question would be put before Alabama voters in November's general elections as a constitutional amendment. 
"Let the people decide if they want a lottery in Alabama," said McClendon, the State Senator.
There were multiple amendments made to the bill by the Senate last Friday. One amendment was that 10% would be given towards the state's education. This was later removed by another stating that the first $100 million will go to toward Medicaid.
A state program Medicaid helps people with medical costs who have limited income. They also offer benefits like personal care and home nursing. 
According to The Times Daily, the Governor Bentley said "We have a system in this state called Medicaid. It may not be the best system in the world to take care of patients, but it's the only thing that we have. We have to make sure that we fund adequately so that we can take care of those in this state that cannot take care of themselves."
A Golden Ticket Found at the Bottom of a Handbag
With so many handy things in a woman's handbag, it is amazing what you can find. Perhaps a mirror, lip balm, maybe some coins, tattered old receipts too. One lady from Ireland found a winning UK lotto ticket of a whopping £120,000. (Much better than finding an old sweet wrapper…)
She had no clue she had been walking around with the golden ticket for two whole weeks. The Kilkenny woman got the surprise of her life after she had decided to spring clean her handbag.
The lady who would like to stay anonymous told her story at the National Lottery office.
"My handbag was bulging and I decided to clear the load yesterday. There were a few Lotto tickets in there.  I'd just seen the news that the big jackpot was won in Leitrim but I thought, sure you never know, there might be a few quid on these."
"I remember buying my ticket that day," she said. "I thought to myself that I was due a bit of luck. Someone must have been listening!"
She won the amazing secondary prize matching five numbers and the bonus ball. The woman said she will use her winnings to take care of her family and anything else she might need in future.