by Content Editor, Christina
/
March 14, 2017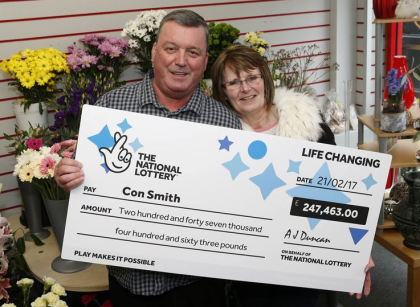 A grandad from Kent had a few fortunate coincidences leading to his life-changing Euromillions lottery win. Con Smith, 58 won a surprising £247,463 lotto reward that will definitely bring some joy to the family.
Con Smith matched his lucky dip ticket of five main numbers and the lucky star on the 21st February lotto draw. Con's Dad was just released from hospital after an incredible recovery.
Smith explains "Our change in luck started when I brought my dad home from hospital. The previous week he was lying in a hospital bed and we had been told he had just 24 hours to live. Seven days later he'd made a miraculous recovery and I was able to take him home."
On his way home, Smith bought the Euromillions ticket at a newsagent while waiting for his father's takeaway food at the chip shop that was next door. Relating how the fortunate events happened, Smith said "It's a good job dad's fish was cooked from fresh as it meant I went into the shop, somewhere I'd never been before, and bought that winning ticket. It's as if it was meant to be – dad coming out of hospital, my buying the ticket in a completely new shop and the fish needing to be cooked, it's as if fate decreed the win!"
The following morning, Con checked lottery results online with his golden ticket through the National lottery application. Scanning the ticket over seven times, he could see how much money he won.   
"When the app let out a little beep to alert me to a win I was certainly not expecting to see a big congratulations message and confirmation of a £247,463 win. I had to scan the ticket about seven more times before also logging onto the National Lottery website to cross reference the numbers, and each time it confirmed I'd won – it was utterly surreal."
He rushed down to their floristry business to share the great lottery news to his wife, Lorna. When Con showed her the precious lottery receipt and scanned in front of her, she was on cloud nine and told him to contact Camelot lottery officials. Since 1992, the Smith couple really value their commitment towards their business, in fact after an urgent delivery of flowers to a client did Con ring to confirm with the National Lottery office.   
Con and Lorna Smith explain their future plans: "First and foremost I will help out our children, put some away for pension and pay off a few debts. We'll probably also look at buying a new car, make a few renovations at home and maybe some new furniture. Then it's a bit of investment into the florists. It's no secret that running a small high street business isn't easy these days and this win will give the business, and us, a nice boost."