by Content Editor, Christina
/
November 17, 2016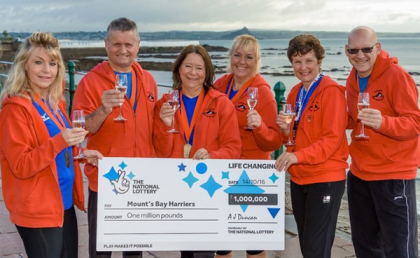 A group of Marathon runners from Cornwall, formed the Mount's Bay Harriers syndicates have won a spectacular £1 million through the Euromillions UK Millionaire maker. Nicky Morse, 58, the syndicate leader had one of his lucky instincts and convinced the others they should buy Euro lottery tickets.
The group consisted of Nicky and Jackie Morse, Damian Cook, Claire Backhouse, Amanda Prosser and Jackie Stone. Each of the six players took home a share of £76K.
Nick's Lucky Feeling 
Known for his winning streak, the others wanted to take part and try their luck. Nick explains "I do seem to have a bit of a magic touch. I'm not a regular gambler but every now and then, I feel lucky and I'll be drawn to bet on something and I always win."
The syndicate Mount's Bay Harriers bought thirteen lottery tickets at Exeter airport while on their way, heading to Amsterdam for a weekend marathon. On their return one of the syndicate members got curious to check the Euro lotto results.
On the realization that they did not match any numbers, they threw their crushed tickets at Nicky jokingly "You and your feelings."
Nicky who had more belief and confidence in his instincts, took the lotto tickets home to check them out a second time. They may not have won the jackpot but certainly the UK millionaire maker code. Nick contacted the others telling them they won a million pounds. 
The syndicate members did not believe him so Morse set up a meeting to show them proof that winning the lottery is possible through the Millionaire maker code.
After Revealing the Lottery News
Lots of emotion, disbelief and sleepless nights, made them think of planning how they will spend the money. The members intend to pay off their debts, book a few holidays around the world as well as some home improvements.
Having just cashed their cheque recently, the syndicates will meet for a dinner and drinks to toast to their good fortune of a better future.  
For you to win the lottery, you have to participate in it. There are several lotteries we have available on our site that will take place this Friday evening, with jackpots starting from Thunderball's £500K to a jaw-dropping $82 million prize in the Mega Millions. You never know what kind of luck will come your way unless you follow that lucky feeling and play the lottery…