by CompareLotto
/
November 01, 2016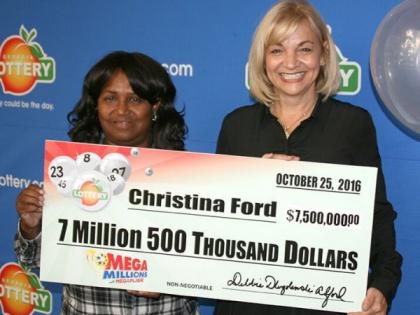 Two lottery winners came forward to collect and take home their money-hugging cheque of an incredible $7.5 million each, one day apart from another. It was over three months ago that the draw took place and each winner guessed the correct numbers drawn on the 22nd July. Was it a coincidence or maybe an agreement between the two? That remains a mystery.
According to 11alive.com, when Christina Ford from Dallas found out she won, her first reaction was actually thinking it was a dream. She kept saying, 'Yeah, right. This can't be true,'' whilst checking the live draw on TV.  
Christine Ford decided to wait three months so that she can plan carefully how she will spend the money. The new millionairess announced that she will be using her windfall for spending some time taking relaxing vacations and help her family financially.  
Something told him to recheck the numbers again. At that moment, he realized that he will be millions richer. He also waited some time to claim his prize to meet the financial experts and make the necessary plans for the future. A surreal experience it is to win the lottery especially - particularly Mega Millions, as one million is already a guaranteed prize.
Coincidentally there was another new millionaire who claimed his win just one day after Ms. Ford – namely, Kevin Young from Bristow. He took a modern way of checking the lotto results online, initially he did not check carefully so at first glance he thought he won nothing. Mr Young said "I went right past it. I saw it and didn't recognize it. I thought, 'Didn't win again.''
So far the American Lottery has aided the Georgian state providing the funds for educational programs like HOPE Scholarship program. This scheme helps students who achieve academically but need financial help for a college degree. 
Who knows what luck will bring you this week? There are several lotteries that offer high jackpots for you to participate. You are still in the chance to try your luck in the Mega Millions for this Tuesday's jackpot offer of an amazing $40 million. With such a big figure, you can spend the rest of your life on a cruise ship…
You are still in time for another lottery which will be held Tuesday evening, the European Euromillions. This evening's euro lotto is offering a jackpot of a sensational €17 million. How about buying a French Chateau and a startup winery to go with it…
Another Lottery we offer on our site is the Italian SuperEnalotto which is also held in the same evening. The jackpot prize of the coming draw is a jaw-dropping €41 million. Why not invest on an Italian property that has growing olive fields all around, making oil that is fine for cooking… 
So what are you waiting for? Buy your lotto tickets from our partners for the coming lottery draws this evening for your chance to be a new millionaire. Break a leg!