by Content Editor, Christina
/
January 06, 2017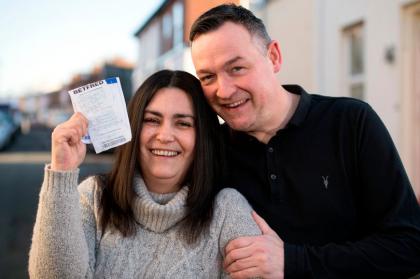 A couple from Waterloo were close to missing out on the New Year Windfall. They were lucky to retrieve their winning lottery ticket from the bin for it was worth a sensational £66K. There are many raffles that offer a second chance even though you don't guess all the lottery ticket numbers.
Joanne Joynson, 37 went to buy a Betfred Lottery ticket on New Year's Eve, only to find out three days later that the lottery ticket was in fact a winner. She rummaged through the bin in search for the lotto receipt. Within minutes, she was at the lotto retailer clutching the piece of paper that would win her the lottery.
Her lotto coupon was part of a Betfred 10-week cash giveaway campaign, where all the losing lottery tickets from the past eleven lotto draws would go all into the weekly lot.
The mother of two, Joanne said "I was shaking when I went back to the shop and they had to give me a cup of tea to calm me down… I go in Betfreds every day and have a go on the Spanish or Irish lotteries, the 49s or the goals galore coupon. I have won bits before but never ever anything like this."
Joanne Joynson and Dyllan O'Connor have been together for fifteen years and thanks to the lottery win, they are now planning a summer wedding. She said "First thing I did when I saw Dyllan was to remind him he had proposed 15 years ago and that we could now afford to get married… I have always wanted to get married but we've never had the money to do it until now."
It is your chance to try your luck in the EuroJackpot offering a jaw-dropping € 90 million, the highest European lotto prize for the New Year 2017. You could also play online lottery, Mega Millions for a sensational $ 117 million tonight and who knows you could start living the New year the way you want to…