by Content Editor, Christina
/
April 04, 2017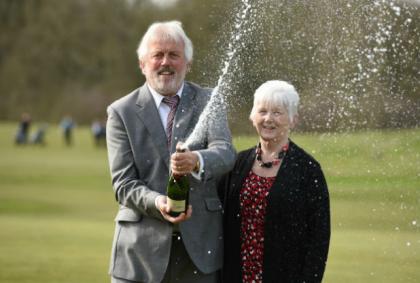 Winning the lottery on the funniest day of the year takes a little more convincing for many lotto winners. The first of April just happened to be a Saturday this year, have you fallen for any pranks lately?
Some people are quite good at setting up practical jokes to very smallest of details, whether it's a marriage proposal, moving to another country, a breakup or even winning the lottery. No surprise here that lotto winners would think that someone may be pulling their leg.  
Just a day before April Fool in 2015, a retired couple from Lincolnshire won a jaw- dropping £53 million, having played the Euromillions lottery. Richard and Angela Maxwell, the lucky winners thought that someone may be playing a prank on them being so close to the first April.
Richard Maxwell checked the lottery results online while taking a break from gardening. Once the lotto numbers showed up onscreen, the lottery news was hard to believe.
"I always keep our lottery ticket in the kitchen drawer so I took a break and went online to check the results," he said. "I checked again and again, five times in total, as I couldn't believe it. Then I saw only one ticket had won £53m and I was in shock. I thought someone had scanned my ticket somehow and put it on the website as a joke. It was April Fool's Day after all."
Richard waited for his wife, Angela to arrive home from volunteering at the pensioner's club to share with her the amazing lotto news. When she had finally arrived, Richard said, "We can't go out for dinner, Angela, I've got something to tell you."
Ms Maxwell explained "I didn't know what to think. Richard just went red in the face and then said 'we've won £53m'. I just said 'don't be stupid' – he's always playing jokes so I thought it was an April Fool's Day. I just didn't believe it, then he showed me the numbers on the website and I dropped the basket of tea towels on the floor. Then I just sat down in the chair for about half an hour, stunned."
The lucky millionaires spent their lottery cash reward on a luxury holiday to New Zealand, a new minibus for local pensioners. The couple's bucket list included a brand new shiny Range Rover, designer shoes and handbags.
It turns out Lincolnshire is a lucky town for the Maxwell couple, who will continue to play lotteries online especially the Euromillions for the rest of their lives.